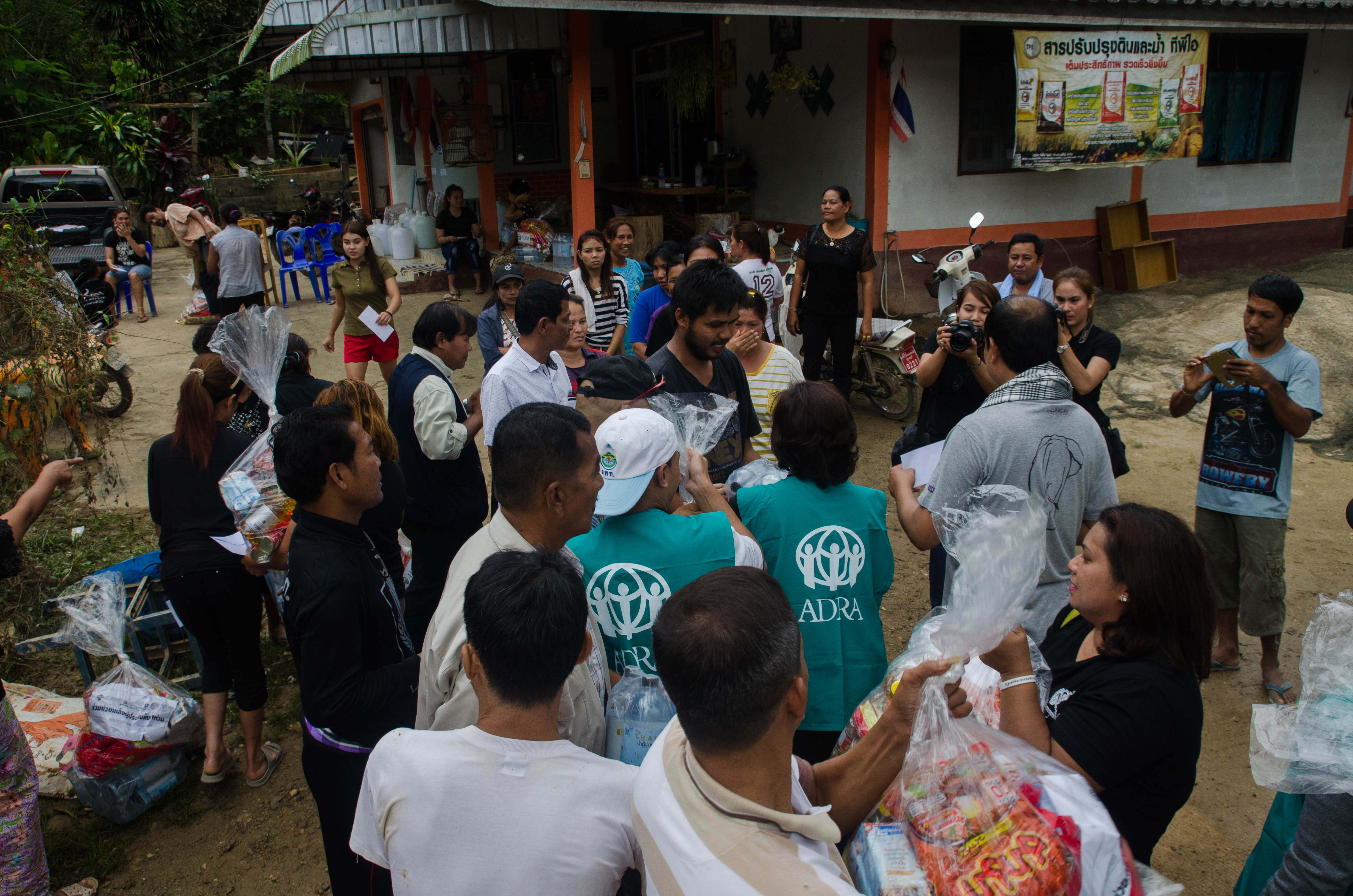 The situation became severe in January 2017 as increased rainfall became torrential, causing severe flooding across twelve provinces in Southern Thailand. This is the worst flooding that Thailand has seen in thirty years, causing more damage and destruction than even the 2011 floods.
The twelve affected provinces are as follows; Chumphon, Surat Thani, Nakhon Si Thammarat, Patthalung, Songkhla, Trang, Pattani, Yala, Narathiwat, Krabi, Ranong and Prachuap Khiri Khan. At least 91 deaths have been reported as of the 2nd February; 4 persons are still stated as missing and the evacuation of 65,000 individuals has occurred across the provinces. It has been revealed that a total of 590,000 households and 1,800,000 people have been affected in the Southern regions.
 Nakhon Si Thammarat province was the most severely hit by the flooding, where rainfall was measured as high as 700 milimetres in Maung district and over 400 milimetres in other districts. Thai average rainfall in the southern regions is usually about 132 mllimetres, making this over five times the regular amount of rainfall in this period. The monsoon season usually begins in August and ends October, however this year the rain has continued to fall for much of January, an unusual precedent.
 During the days following the downpour, it was reported that the flooding had also damaged 70 government installations, 270 drains, 126 weirs, two reservoirs, 4,314 roads, 348 bridges and 2,336 schools. One particular incident of flash flooding washed out a bridge on the country's main north-south highway alongside several others, backing up traffic for 200 km (125 miles). Many rivers; such as the Ta Pi River; flooded its embankments and nearby communities, forcing them to evacuate to higher ground.
 In addition to structural damage, farmland and supply yields have been compromised. Southern Thailand is home to many rubber plantations, yielding much of the world's rubber supplies, and the expected yield for 2016-2017 is 10% lower because of the flooding. Close to 1 million rai of farmland has been destroyed by the continual rainfall and prolonged flooding. Of that figure, more than 990,000 rai were crop plantations, 39,000 rai were livestock farms, and 19,000 rai grass plots.
 Currently, much of floodwaters have been drained and relief efforts have been carried out in affected areas thanks to the joint efforts of the Military, Government and NGOs working in the sector. More than 70 water pumps and 50 jet propulsion machines were installed to discharge water to the sea, and local army bases have been providing vehicles and manpower for rescue operations; many houses have also been relocated to prevent additional flooding. Subsequently, it is estimated that 897,000 farm animals have been evacuated; 480,000 kilograms of animal feed distributed and 14,000 animals received medical treatment.
 The National Command Centre for Disaster Prevention and Mitigation is evaluating areas that flood repeatedly and the overall risk in the southern region. They hope to improve the current monitoring and prevention system, which includes remodeling warning and evacuation systems, as well as equipment and shelter for when flooding occurs. At this time, 251.37 million baht in donations has been received to assist those in crisis and the government is still welcoming additional funds.
The emergency response by ADRA Thailand was implemented in Prasang, Cahiburi & Vieng-Sra District, Surathani Province Thailand. Initial assessments by Phuket Mission Hospital indicated the greatest needs of affected communities were food and water. It was announced that ADRA Thailand & Phuket Mission Hospital would deliver food aid to these areas in Sai Khueng, Prasang District; Songprak, Chaiburi District and Tung Luang, Vieng Sra District. The response was split into stages; with two distributions. Distribution one was carried out to 218 families in Prasang & Chaiburi District and distribution two for 260 families in Vieng-Sra District. The areas selected for ADRA intervention were decided by working with the Mission Hospital and local authorities to narrow down the sub-districts, and subsequent villages most overwhelmed by the flooding. Families chosen to receive support were recommended by village chiefs of the predetermined villages, who assessed by location the worst situated homes and selected accordingly.
 The bureau of meteorology has indicated less rain for the coming weeks, and families are returning to their homes to start the cleanup. The flood situation remains critical in five provinces; however rehabilitation efforts have already begun in several cities, namely Ranong, Krabi, Trang, Chumphon, Prachuap, Khiri Khan, Yala and Narathiwat. The inundated areas will have flood waters diverted and stored in catchments to be used in the dry season. Homeowners will be entitled up to 250,000 baht depending on the degree of damage and a home repair program will be run by soldiers and vocational students to get people back on their feet. Additional funds of 3,000 baht will be given to farmer families. The government plans to assess response initiatives and warning systems for future disasters, as well as preventative measures so that they are well prepared for what is not an uncommon occurrence in Thailand.