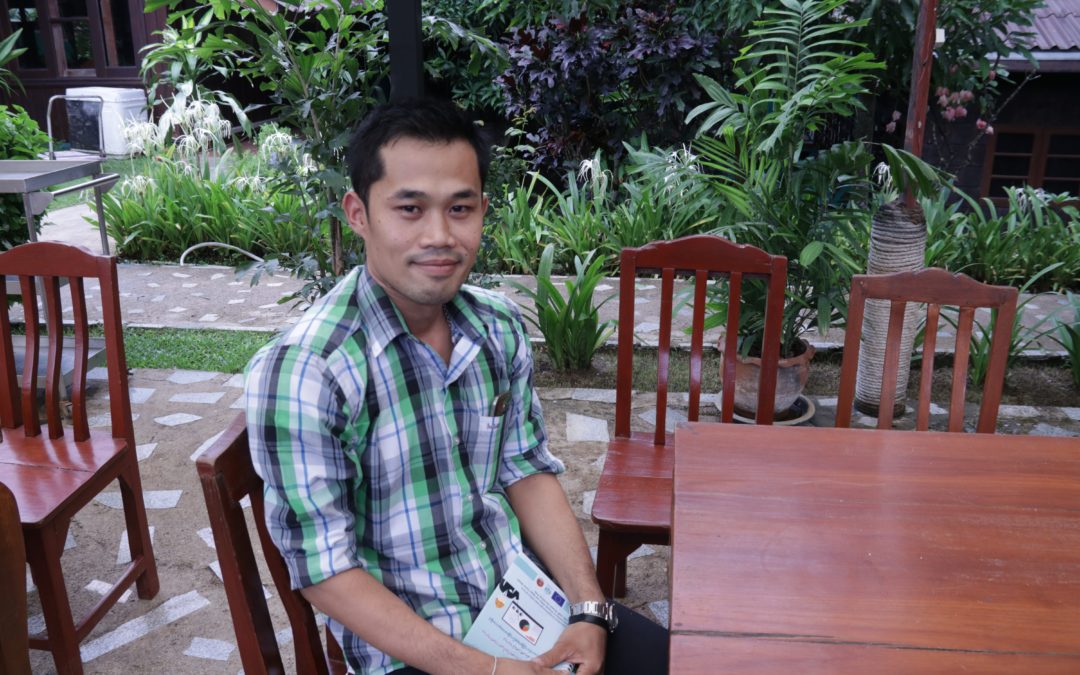 Khaow is a human resource supervisor at one of the many garment factories in Mae Sot, Thailand.
Khaow is a human resource supervisor at one of the many garment factories in Mae Sot, Thailand. Like many factories in the area, they make garments of all kinds. The factory is currently about two years old, and subcontracts to a larger corporation in Bangkok; which then ships to the international market. The majority of workers, aside from senior management, are Burmese migrant workers from Myanmar. As such, they are not entitled to the same level of standards that companies with Thai workers need to uphold. Living and working conditions for migrant workers has been a longstanding issue, with many workers living without basic necessities and working in unsafe conditions. Workers often resort to illegal measures to come to Thailand and work as they cannot afford to do it legally.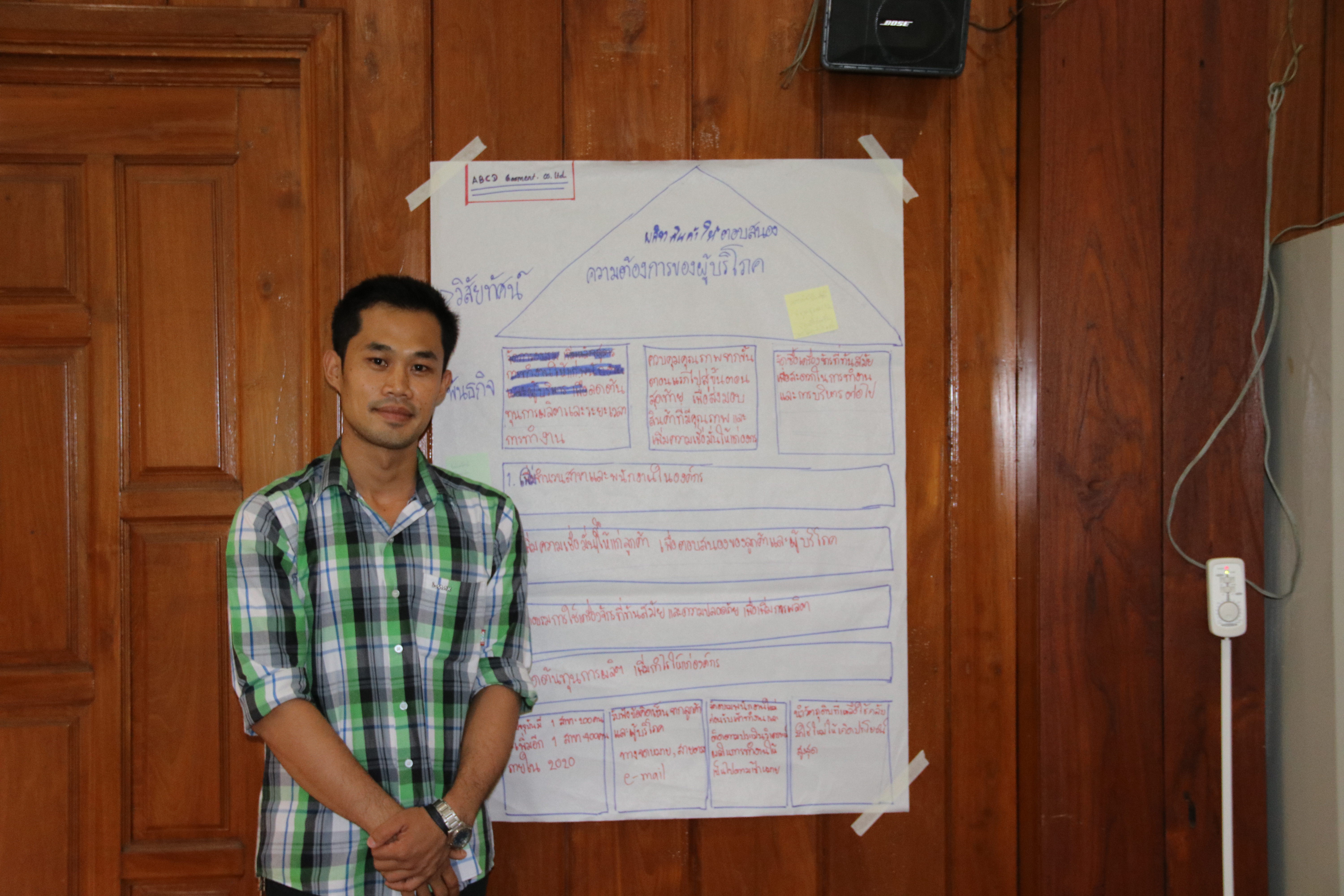 Khaow next to his Strategy House
Photograph by Brittanie McLean
Khaow has been with the factory since its inception, and has recognised the need for better Occupational Health & Safety (OHS) standards to be put in place. When asked about current concerns for safety, Khaow mentioned that the dormitories are in the same building as the factory. Should a fire or other emergency break out in the building it could jeopardise the workers living there. He previously proposed something to be done about the situation but they are only renting the building. They are also in the process of securing another factory location; so no renovations will be considered at this point. However, upon securing the new location, it may be possible to reassess the situation.
As human resource supervisor, Khaow gets a lot of facetime with the migrant workers, and so often hears their stories and what it is like for them working in the factory. Everything gets filtered to him unless it concerns production, which heads to a different department. It is obvious that they need to make changes to the way the company is operating, but with limited resources and a quota to fill, it takes a helping hand.
ADRA Thailand has been operating a project run by the EU in Mae Sot targeting the safety and health of migrant worker factories. This project is referred to as the Enhanced Capacities for Migrant Advocacy project (ECMA) and seeks to create better conditions for workers and employers. In this project, the 'happy factory model' was introduced, with 20 factories agreeing to take part; Khaows company included. The ECMA team has since run several safety officer trainings for factories, which have been revealed to already be yielding results. "I learned how to be involved in safety in my factory". As a direct result of this training, Khaow has placed fire extinguishers throughout the entire factory, as well as fire exits and signs; they also have safety warning signs on the walls. This is already a significant improvement in emergency preparedness and general OHS standards.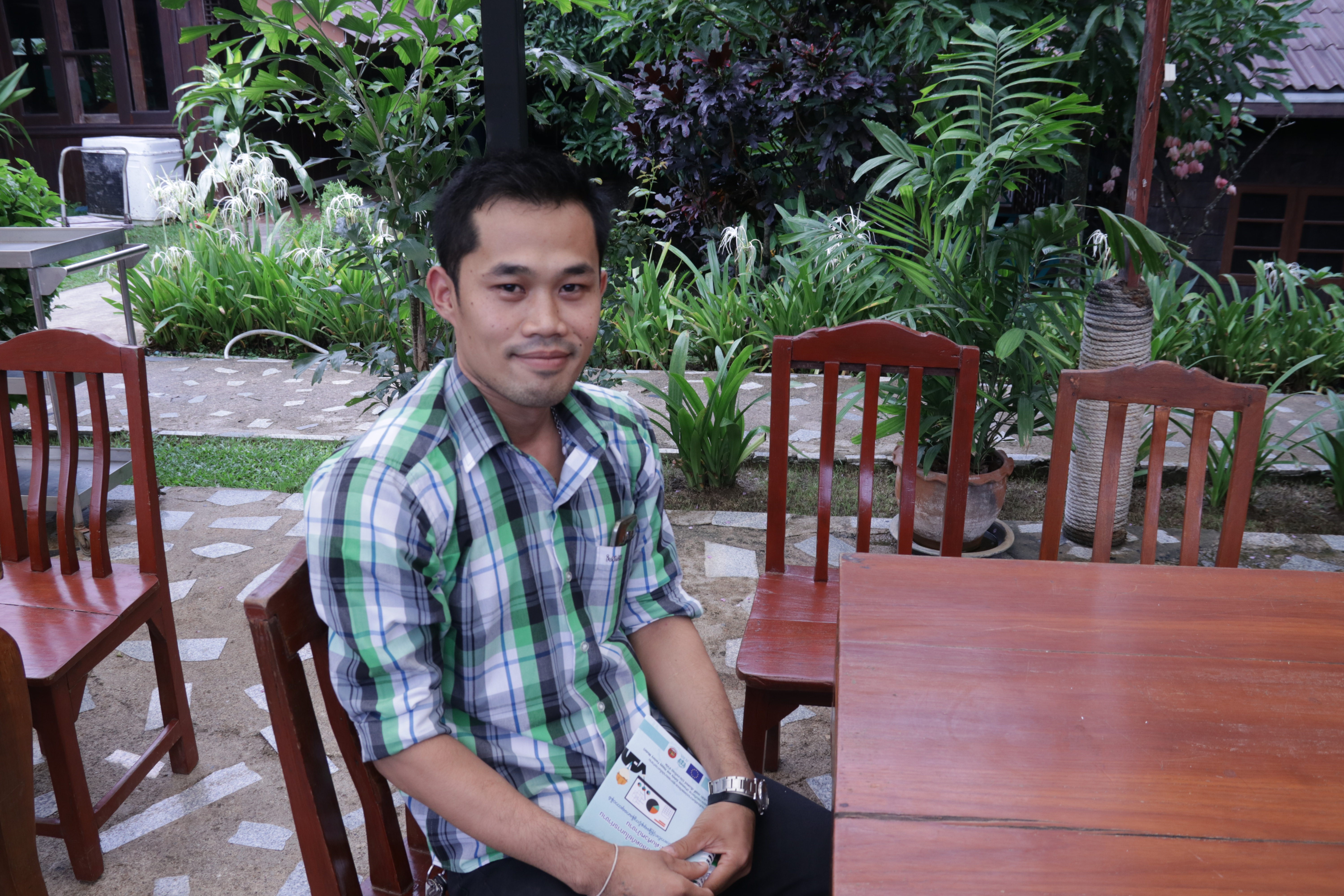 The project has also conducted workshops on capacity building and organisational management for factory owners; which has introduced new concepts and strategies (such as the strategy house) for factories which Khaow states is "very useful and relevant. I will apply to my work".
Soon the project will host more firefighting workshops with local fire brigades as part of this initiative, which Khaow is looking forward to, "We would like to see more firefighting training, this is a real issue for us". Khaow has also made some progress with hygiene standards in the factory. Unlike safety, it is sometimes difficult for people to correlate the importance of best hygiene practices in the workplace with personal health, so it will take some time to get everyone on board with tackling this issue. For now, he has been putting up hygiene and sanitation signs around the building to promote the issue, and has started discussing further improvements with migrant employees.
It is a slow process and Khaow recognises that their factory is not 100% at the happy safe factory model yet, but everything he is learning will continue to push forward with improving standards. He suggests that ADRA hire experts to continue providing first aid training, firefighting workshops and other practical initiatives to continue building capacity in migrant worker factories as it is "a benefit to all of us".